About melancholy | Bookings | Performances | Video-sample | Pictures
---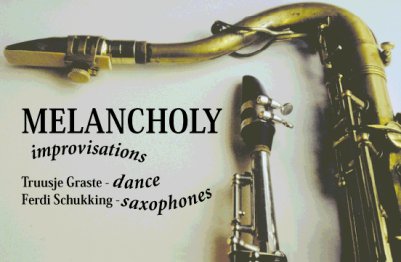 "Melancholy", improvisations dance and saxophone.
"Melancholy, this saddening kind of humour" (Maarten 't Hart)
---

The performance "Melancholy" tells the story of two improvisers who understand each other. They search for the confrontation between dance and motion, saxophone and personal expression. They look for this one moment of beauty, with a starting point the idea, the structure, the emotion, the sound, the image, the melody, the movement. Melancholy is the feeling which remains.

Dancer Truusje Graste performed in several improvisational dance productions and toured through Germany, Italy, Spain and Portugal. As a teacher she worked at the Amsterdam School of the Arts and at the Institute for Theatre-research she investigated the theatrical aspects of expressive dance and motion. She choreographs and works in multidisciplinary and multicultural projects. She lectures and gives workshops and coaches to stimulate individual dance performance, improvisation, presentation and style.


Saxophonist Ferdi Schukking learned soprano saxophone under Adri van Velsen in Maastricht, studied composition with Misha Mengelberg in Amsterdam and microtonality with dr. Rudolf Rasch in Utrecht. His classical training has been showcased in the Delphi Saxophone Quartet, with modern compositions of Dutch composers and in a duo with pianist Bea de Jong. He is also an accomplished solo-performer, and his program "De Ontmoeting" ("The Meeting") features the soprano, alto, tenor and baritone saxophone, with works by J.S.Bach, by the modern Dutch composer Theo Loevendie, from the jazz musician Thelonious Monk and with improvisations on his own compositions. The ensemble I4CMS (I foresee a mess) plays a combination of jazz and pop music. He has his own jazz-trio "Triosonic" which play modern improvised music, based on modern classical composing methods, like Schoenbergs twelve-tone series and Peter Schats Tone-clock structuring principle. In 1989 he won the KRO-broadcasting company Saxophone Competition together with pianist Ingeborg van Stiphout. In 1995 he won the Dordtse Jazzprice with his septet "Very Shucking". He has produced and collaborated on numerous CD productions.

Truusje and Ferdi are both looking for the common ground of the Muses. Ferdi worked with artists, poets and dancers. Truusje performed with musicians, expressive artists, actors, directors and a computer controlled music robot.



---
Download MPeg-video (4.7 Mb)
---
Bookings and further information:
Ferdi Schukking
Oostsingel 1 B
3441 GB Woerden
Holland
+ 31 6 27450768
E-mail: duodenum@xs4all.nl
---
Performances:

1999

Jun. 5
Het Kloosterhuis, Grotestraat 71, Sambeek.
May, 30
VPRO De Plantage, Live TV performance Hanneke Groenteman
Apr. 24
V.Z.W. Kong, Nieuwland 27, Gent (Belgium)
Apr. 17
Pleintheater, Sajetplein 39, Amsterdam
Mar. 20
Theater Het Klein, Eindhoven
Mar. 14
De Distel, Oosterduinweg 254, Aerdenhout
Feb. 26
USVA, Munnekeholm 10, Groningen

1998

May 23
Theater de Kloostertuin, Wilhelminaweg 77, Woerden
---